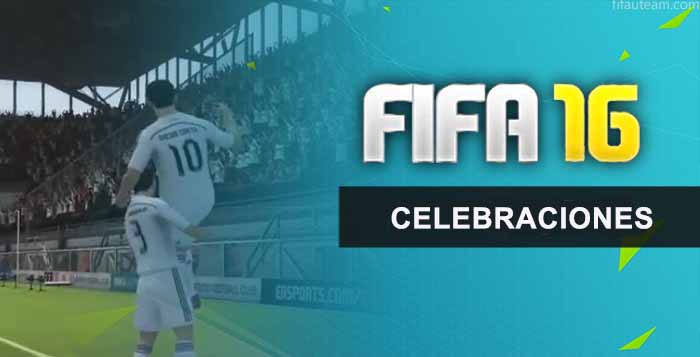 ¿Está buscando Celebraciones FIFA 15? Usted puede encontrarlos aquí.

Atajo
Guía de Celebraciones FIFA 16
¡Goool¡, ¡Goool¡, ¡Goool¡, en el mundo real, para un jugador de fútbol no hay cosa más excitante y sublime que él marcar un Goool, y es por eso que la celebración es un evento único que muestra la felicidad y el éxtasis de haber conseguido el premio más preciado en el fútbol, y que es marcar un gol.
En el mundo real, los jugador profesionales de fútbol, demuestran su felicidad celebrando el gol imprimiendo su propio estilo, y es por que podemos reconocer a un jugador tan sólo por una celebración; Hoy en FIFA 16 tu puedes hacer lo mismo e imprimir tu propio estilo en cada gol que marqués, con una gran variedad de celebraciones.
Para celebrar un gol en FIFA 16 después de marcar uno, sólo tienes que presionar los botones, hay celebraciones más complicadas que te llevarán más tiempo y practica aprender, pero para eso estamos aquí, para ayudarte a celebrar cada gol de forma única, antes que nada ve que celebración es para ti, y después intenta realizarla, si necesitas más ayuda, te dejamos vídeos donde contamos como celebrar cada gol, el video lo encontrarás al final de la página.
Celebra y demuestra tu felicidad al marcar un gol y deja que tu oponente se entera cuanto disfrutas haber marcado, recuerda que además de las celebraciones disponibles, existen celebraciones PRO y que son celebraciones que puedes desbloquear del catálogo de la tienda de EA SPORTS FC.
Celebraciones FIFA 16
MOVIMIENTOS EN CARRERA
One Arm Raised
Thumb Suck
Ear Twist
Finger Points
Arms Out
Wrist Flick
Aeroplane
Point to the Sky
Shhh!
Telephone
Can you hear me?
Hands out
Come on!
Blow Kisses
Double Arm Swing
Flying Bird
Hand on Head
Heart Symbol
Arms Pointing Up
Windmill
MOVIMIENTOS DE FINALIZACIÓN
Point to the Sky
Show Respect
Spanish Dance [nueva]
Belly Flop
Riding the Wave
The Business
Standing Archer
Punch and Dodge
Chest Slide
Point Up [nueva]
Signature Finishing Move
Backflip/Arms to Crows
Hand Spring / Roll & Punch
Double Backflip and Roll
Violinist
Spanish Archer
Hands on Ears
Stomach Slide [nueva]
Knee Slide Arms Out
I can't hear you
Side Slide
Brick Fall
Knee Slide
Who am I?
Front Flip/Torero
Knee Slide to Sit
Flip/Cartwheel
Twist Flip / Cartwheel Roll
If I catch you
Why Always Me?
Kiss the Pitch
The Salute
Peacock
Chest Tumph [nueva]
Glamour Slide [nueva]

DESBLOQUEABLES PRO
Many Bows
Pardon
Fall to knees & beg
Backflips
Slide on Back
Cockroach
River Dance
Break Dance
Praise on knees
Backwards worm
Uncontrolled backflip
Handstand
Spin & Fall
Rowing on knees
Seated rowing
Knee walk
Cradle swing
Baby
Flying Dive
Karate Kicks
Jump Kicks
Ice Skating
Golf Swing
Dance 1
Dance 2
Dance 3
Dance 4
DESBLOQUEABLES DE EAS FC
KO [nueva]
Right Here Right Now
Hand Bite
Stand Tall
Kiss the Whist
Old Man
Calm Down
The Bear
Riding the Cat
Bailando Robot [nueva]
Muevelo
Party Cake
Muscle Flex
Push Ups
The Worm
Dance
Prancing Bird
Gallop Dance
Lista de Celebraciones FIFA 16
CELEBRACIONES FIFA 16
XBOX
PLAYSTATION
MOVIMIENTOS EN CARRERA
One Arm Raised
Mantener B
Mantener O
Thumb Suck
Mantener X
Mantener ■
Ear Twist
Mantener Y
Mantener ▲
Finger Points
Pulsar B despues mantener B
Pulsar O despues mantener O
Arms Out
Pulsar X despues mantener X
Pulsar ■ despues mantener ■
Wrist Mueve
Pulsar Y despues mantener Y
Pulsar ▲ despues mantener ▲
Aeroplane
Pressionar abajo RS
Pressionar abajo RS
Point to the Sky
Mantener RS arriba
Mantener RS arriba
Shhh!
Mantener RS derecho
Mantener RS derecho
Telephone
Mantener RS abajo
Mantener RS abajo
Can you hear me?
Mantener RS izquierdo
Mantener RS izquierdo
Hands out
Mueve RS derecho despues mantener RS izquierdo
Mueve RS derecho despues mantener RS izquierdo
Come on!
Mueve RS izquierdo despues mantener RS derecho
Mueve RS izquierdo despues mantener RS derecho
Blow Kisses
Mueve RS abajo despues mantener RS arriba
Mueve RS abajo despues mantener RS arriba
Doble Arm Swing
Mueve RS arriba despues mantener RS abajo
Mueve RS arriba despues mantener RS abajo
Flying Bird
Mueve RS derecho despues mantener RS derecho
Mueve RS derecho despues mantener RS derecho
Hand on Head
Mueve RS izquierdo despues mantener RS izquierdo
Mueve RS izquierdo despues mantener RS izquierdo
Heart Symbol
Mueve RS abajo despues mantener RS abajo
Mueve RS abajo despues mantener RS abajo
Arms Pointing Arriba
Mueve RS arriba despues mantener RS arriba
Mueve RS arriba despues mantener RS arriba
Windmill
Girar RS Jirar a la derecha
Girar RS Jirar a la derecha
MOVIMIENTOS DE FINALIZACIÓN
Point to the Sky
Mantener LB, pressionar B
Mantener L1, pressionar O
Show Respect
Mantener LB, doble pulsar B
Mantener L1, doble pulsar O
Belly Flop
Mantener LB, pressionar X
Mantener L1, pressionar ■
Spanish Dance
Mantener LT, mueve RS arriba dos veces
Mantener L2, mueve RS arriba dos veces
Riding the Wave
Mantener LB, pressionar Y
Mantener L1, pressionar ▲
The Business
Mantener LB, mueve RS abajo doble
Mantener L1, mueve RS abajo doble
Standing Archer
Mantener LB, mantener RS derecho
Mantener L1, mantener RS derecho
Punch and Dodge
Mantener LB, mantener RS izquierdo
Mantener L1, mantener RS izquierdo
Chest Slide
Mantener LB, mueve RS abajo despues arriba
Mantener L1, mueve RS abajo despues arriba
Point Up
Mantener LB, mueve RS izquierdo depues direcha
Mantener L1, mueve RS izquierdo depues direcha
Signature Finishing Move
Pressionar A
Pressionar X
Backflip/Arms to Crows
Mantener LB, mueve RS arriba doble
Mantener L1, mueve RS arriba doble
Backflip/Arms to Crows
Mantener LB, mueve RS arriba doble
Mantener L1, mueve RS arriba doble
Hand Spring / Roll & Punch
Mantener LB, girar RS counter-Jirar a la derecha
Mantener L1, girar RS counter-Jirar a la derecha
Doble Backflip and Roll
Mantener LB, girar RS counter-Jirar a la derecha
Mantener L1, girar RS counter-Jirar a la derecha
Violinist
Mantener LT, pressionar X
Mantener L2, pressionar ■
Spanish Archer
Mantener LT, pressionar Y
Mantener L2, pressionar ▲
Hands on Ears
Mantener LT, doble pulsar X
Mantener L2, doble pulsar ■
Stomach Slide
Mantener LT, doble pulsar Y
Mantener L2, doble pulsar ▲
Knee Slide Arms Out
Mantener LT, mantener RS arriba
Mantener L2, mantener RS arriba
I can't hear you
Mantener LT, mantener RS derecho
Mantener L2, mantener RS derecho
Side Slide
Mantener LT, mantener RS abajo
Mantener L2, mantener RS abajo
Brick Fall
Mantener LT, mantener RS izquierdo
Mantener L2, mantener RS izquierdo
Knee Slide
Mantener LT, mueve RS arriba despues abajo
Mantener L2, mueve RS arriba despues abajo
Who am I?
Mantener LT, mueve RS derecho despues izquierdo
Mantener L2, mueve RS derecho despues izquierdo
Front Flip/Torero
Mantener LT, mueve RS arriba doble
Mantener L2, mueve RS arriba doble
Knee Slide to Sit
Mantener LT, mueve RS abajo doble
Mantener L2, mueve RS abajo doble
Flip/Cartwheel
Mantener LT, girar RS counter-Jirar a la derecha
Mantener L2, girar RS counter-Jirar a la derecha
Twist Flip / Cartwheel Roll
Mantener LT, girar RS Jirar a la derecha
Mantener L2, girar RS Jirar a la derecha
If I catch you
Mantener RT, pressionar RS
Mantener R2, pressionar R3
Why Always Me?
Mantener RB, doble pulsar Y
Mantener R1, doble pulsar ▲
Kiss the Pitch
Mantener RT, doble pulsar B
Mantener R2, doble pulsar O
The Salute
Mantener RB, pressionar Y
Mantener R1, pressionar ▲
Peacock
Mantener RB, doble pulsar B
Mantener R1, doble pulsar O
DESBLOQUEABLES DE EAS FC
KO
Mantener LB, doble pulsar X
Mantener L1, doble pulsar ■
Right Here Right Now
Mantener LB, pressionar B
Mantener L1, pressionar O
Hand Bite
Mantener LT, mueve RS abajo arriba
Mantener L2, mueve RS abajo arriba
Stand Tall
Mantener RB, RS mantener izquierdo
Mantener R1, RS mantener izquierdo
Kiss the Whist
Mantener LT, doble pulsar B
Mantener L2, doble pulsar O
Old Man
Mantener LT, pressionar RS
Mantener L2, pressionar R3
Calm Abajo
Mantener LB, doble pulsar Y
Mantener L1, doble pulsar ▲
The Bear
Mantener LB, mantener RS arriba
Mantener L1, mantener RS arriba
Riding the Cat
Mantener LB, mantener RS abajo
Mantener L1, mantener RS abajo
Bailando Robot
Mantener LB, mueve RS arriba abajo
Mantener L1, mueve RS arriba abajo
Muevelo
Mantener LB, mueve RS derecho izquierdo
Mantener L1, mueve RS derecho izquierdo
Party Cake
Mantener LB, mueve RS derecho izquierdo
Mantener L1, mueve RS derecho derecho
Muscle Flex
Mantener RB, mueve RS arriba abajo
Mantener R1, mueve RS arriba abajo
Push Arribas
Mantener RB, mueve RS arriba abajo
Mantener R1, mueve RS derecho izquierdo
The Worm
Girar RS Jirar a la derecha
Girar RS Jirar a la derecha
Dance
Mantener RB,, mueve RS abajo abajo
Mantener R1,, mueve RS abajo abajo
Prancing Bird
Mantener RB, pressionar X
Mantener R1, pressionar ■
Gallop Dance
Mantener LB, pressionar RS
Mantener L1, pressionar R3
Chest Tumph
Mantener RT, mueve RS bajo dos veces
Mantener R2, mueve RS bajo dos veces
Glamour Slide
Mantener RB, mueve RS izquierda dos veces
Mantener R1, mueve RS izquierda dos veces
DESBLOQUEABLES PRO
Many Bows
Mantener RT, mantener RS arriba
Mantener R2, mantener RS arriba
Pardon
Mantener RT, mantener RS derecho
Mantener R2, mantener RS derecho
Fall to knees & beg
Mantener RT, mantener RS abajo
Mantener R2, mantener RS abajo
Backflips
Mantener RT, doble pulsar X
Mantener R2, doble pulsar ■
Slide on Back
Mantener RB, doble pulsar X
Mantener R1, doble pulsar ■
Cockroach
Mantener RB, pressionar RS
Mantener R1, pressionar R3
River Dance
Mantener RB, mueve arriba doble
Mantener R1, mueve arriba doble
Break Dance
Mantener RB, mueve derecho doble
Mantener R1, mueve derecho doble
Praise on knees
Mantener RT, mantener RS izquierdo
Mantener R2, mantener RS izquierdo
Backwards worm
Mantener RT, girar counter-Jirar a la derecha
Mantener R1, girar counter-Jirar a la derecha
Uncontrolled backflip
Mantener RB, girar Jirar a la derecha
Mantener R2, girar Jirar a la derecha
Handstand
Mantener RB, girar counter-Jirar a la derecha
Mantener R2, girar counter-Jirar a la derecha
Girar & Fall
Mantener RB, mueve RS arriba doble
Mantener R2, mueve RS arriba doble
Rowing on knees
Mantener RB, mueve RS izquierdo doble
Mantener R2, mueve RS izquierdo doble
Seated rowing
Mantener RB, mueve RS izquierdo doble
Mantener R2, mueve RS derecho doble
Knee walk
Mantener RB, pressionar X
Mantener R2, pressionar ■
Cradle swing
Mantener RB, pressionar Y
Mantener R2, pressionar ▲
Baby
Mantener RB, doble pulsar Y
Mantener R2, doble pulsar ▲
Flying Dive
Mantener RT, mantener RS arriba
Mantener R1, mantener RS arriba
Karate Kicks
Mantener RT, mantener RS derecho
Mantener R1, mantener RS derecho
Jump Kicks
Mantener RT, mantener RS abajo
Mantener R1, mantener RS abajo
Ice Skating
Mantener RT, mueve RS abajo despues arriba
Mantener R1, mueve RS abajo despues arriba
Golf Swing
Mantener RT, mueve RS abajo despues arriba
Mantener R1, mueve RS izquierdo despues derecho
Dance 1
Mantener RB, mueve RS abajo despues arriba
Mantener R2, mueve RS abajo despues arriba
Dance 2
Mantener RB, mueve RS arriba despues abajo
Mantener R2, mueve RS arriba despues abajo
Dance 3
Mantener RB, mueve RS izquierdo despues derecho
Mantener R2, mueve RS izquierdo despues derecho
Dance 4
Mantener RB, mueve RS derecho despues izquierdo
Mantener R2, mueve RS derecho despues izquierdo
Si usted no sabe lo que es LS, RS, LT, mira la siguiente imagen que muestra los botones de los controladores de Xbox y Playstation:
Haga clic sobre la imagen para maximizarla
Videos y Tutoriales de Celebraciones FIFA 16
Si quieres ayuda para realizar cualquiera de estas celebraciones FIFA 16, eche un vistazo a estos videos y tutoriales:
Novedades
FUT 15 >> FUT 16
Eliminadas las siguientes celebraciones:
Flag Slap
Head Shake
Shoe Shine
Heel Taps
Samba Dance
Bird Walk
Water Hose
Telling Off
Moonwalk
Flag Kick
Chicken Dance
Añadidas las siguientes celebraciones:
Spanish Dance
Point Up
Stomach Slide
Chest Thump
Glamour Slide
KO
Bailando Robot
FUT 14 >> FUT 15
Eliminadas las siguientes celebraciones:
Bottom Dance
Movember
Le Cirque Labelle
Robots
Surfer
Pitbull
Añadidas las siguientes celebraciones:
Derecho here derecho now
Old Man
Stand Tall
Kiss the Wrist
Hand Bite
Flag Kick
Flag Slap
Flag Celebrations
Belly Flop
Riding the Wave
The Business
Hand Spring
Twist Flip
If I Catch You