Una selección de las mejores cartas de la Champions League está ahora disponible para FIFA 19 Ultimate Team. Descubra cómo funcionan as cartas Road to the Final y qué jugadores pueden encontrar, por un período de tiempo limitado, en sobres.
Las Cartas UEFA Champions League en FIFA 19
Todas las cartas UCL de FIFA 19
Hay varios tipos de cartas UEFA Champions League en FIFA 19 Ultimate Team. Vamos a conocerlas:

CARTAS REGULARES CHAMPIONS LEAGUE
Todos los jugadores elegibles para la UEFA Champions League que hayan sido confirmados por su club o que hayan jugado un partido con su club en el torneo de este año recibirán una carta Champions League y, además, se les sumará un punto más en su valoración general (GRL) y en cada una de las seis principales categorías de estadísticas.

CARTAS MOTM
Los artículos cMOTM se divide en cartas MOTM de la Champions y cartas MOTM de la Europa League dependiendo de la competición en la que el jugador se destacó. Son asignadas por un rendimiento destacado en los fixtures en estos torneos.

CARTAS DESAFIO DE MONTAGEM DE ELENCO
Las cartas de desafíos de creación de plantillas son artículos únicos que los jugadores pueden obtener tras completar desafíos específicos de la UCL. No pueden encontrarse en sobres. Estas cartas solo están disponibles como recompensas y por esa razón son intransferibles.

CARTAS DA EQUIPA DO TORNEIO
Las cartas TOTT son asignadas a los mejores jugadores de la Liga Europea de Campeones – Equipo de la Etapa de Grupos (TOTGS) y Equipo de la Etapa de Eliminación (TOTKS).

CARTAS DINÂMICAS
Las cartas UEFA Live son asignadas a una selección limitada de 21 jugadores que están en competición en la Champions League. Estas cartas reemplazan las regulares en momentos específicos y son potenciados en valoración y estadísticas cada vez que sus clubes avancen rondas en la Champions League.
 Las Cartas UEFA Champions League Road to the Final
Las Cartas UCL Live
EA Sports ha lanzado una serie nueva de cartas en FIFA 19 Ultimate Team, denominadas UCL Road to the Final, las cuales están dedicadas a la Champions League, y que, como ocurre con las OTW, serán dinámicas. Estas cartas están disponibles en sobres por 7 días, del 9 de noviembre al 16 de noviembre.
Los 21 futbolistas que han recibido esta versión especial, subirán de media conforme sus clubes avancen rondas en la Champions League. Todas las cartas Road to the Final comienzan con una actualización en el lanzamiento del evento y a partir de allí se actualizan cada vez que su equipo tiene éxito en la competición. ¡Un jugador podría recibir un máximo de siete mejoras a lo largo de la temporada. Las cartas UEFA Champions League Road to the Final irán subiendo un punto de media cuando su equipo vaya cumpliendo los siguientes objetivos (bono acumulado que reciben en comparación con la carta regular UCL):
+1 Pasando la fase de grupos
11/12 de deciembre de 2018
+2 Ganar el primer partido de los octavos de final.
12, 13, 19 e 20 de febrero de 2019
+3 Pasar a los cuartos de final
5, 6, 12 e 13 de marzo de 2019
+4 Pasar a la semifinal
16 e 17 de abril de 2019
+5 Pasar a la final
7 e 8 de mayo de 2019
+6 Ganar la final
1 de junio de 2019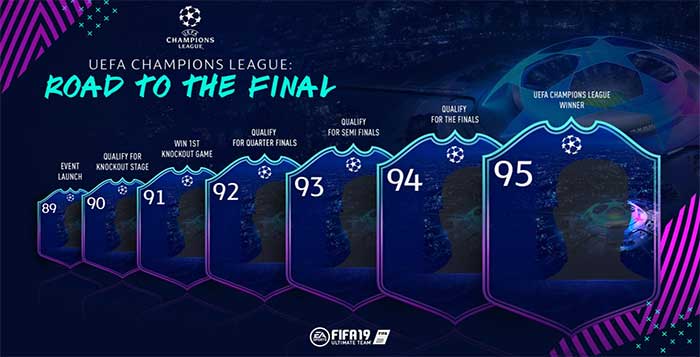 Los Jugadores Road to the Final en FIFA 19
Todas las cartas Road to the Final en FIFA 19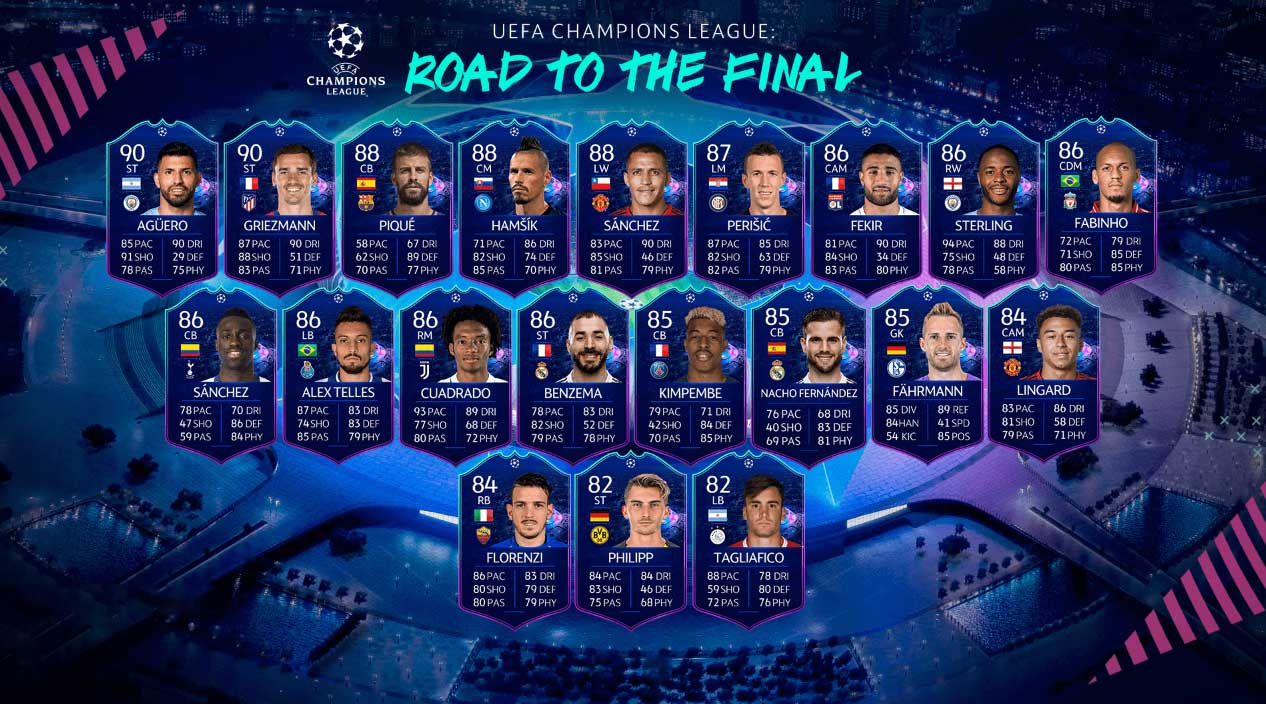 Los 21 jugadores que aparecen en estas cartas UCL Road to the Final son los siguientes.
 
PORTERO
85
GK: Ralf Fahrmann (Schalke 04)
 
DEFENSAS
84
RB: Alessandro Florenzi (AS Roma)
88
CB: Gerard Piqué (FC Barcelona)
85
CB: Nacho Fernández (Real Madrid)
86
CB: Davinson Sanchez (Tottenham Hotspur)
85
CB: Presnel Kimpembe (Paris Saint-Germain)
86
LB: Alex Telles (FC Porto)
82
LB: Nicolas Tagliafico (Ajax)
 
CENTROCAMPISTAS
86
CDM: Fabinho (Liverpool)
88
CM: Marek Hamsik (Napoli)
81
CM: Renato Sanches (FC Bayern)
86
CAM: Nabil Fékir (Olympique Lyonnais)
84
CAM: Jesse Lingard (Manchester United)
86
RM: Juan Cuadrado (Juventus)
86
RW: Raheem Sterling (Manchester City)
87
LM: Ivan Perisic (Inter)
88
LW: Alexis Sánchez (Manchester United)
 
DELANTEROS
90
ST: Sergio Aguero (Manchester City)
90
ST: Antoine Griezmann (Atlético Madrid)
86
ST: Karim Benzema (Real Madrid)
82
ST: Max Philipp (Borussia Dortmund)